Sound and Physical Space
When playing a musical instrument in an acoustically "dead" room, in the middle of a deserted grassy field or under the covers, it sounds quite tame, even if you are a good musician. We are accustomed to hearing music in spaces with a certain reverb time. The reverb time is dependent on the materials that are used on the walls, ceiling and floor. The sound is also affected by how the space is furnished and how many people are in it.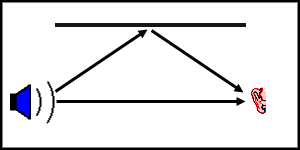 When we hear music or speech in a room, we first hear the sound directly from the source and then reflections from the different surfaces. Sound is reflected off the walls/surfaces in a way that is similar to beams of light hitting a mirror. The wall and surface materials determine how much sound is reflected. (As in mirrors with dirty surfaces.) Different materials also reflect various frequencies differently. (Exactly like a mirror with a thin layer of color paint.)

A smooth, hard and thin surface will reflect treble tones well, but absorbs some of the bass tones. A smooth, hard concrete wall reflects all frequencies. Curtains, insulation and egg cartons, for example, absorb light sounds (treble).

Rooms often have certain tones/frequencies that are more amplified than others. These are called the room's resonance.